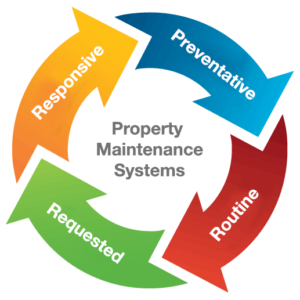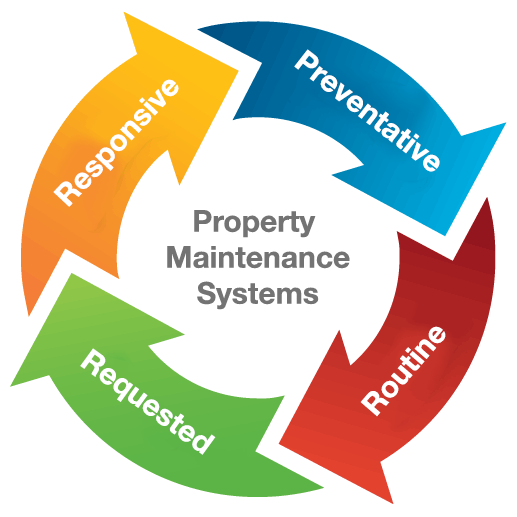 There's no such thing as a maintenance free building.  Property maintenance systems are an absolute must for a profitable property.
Ultimately it is far cheaper to have routine property maintenance systems in place than to wait until something is broken to fix it. The cost of the oil, grease or other supplies for regular maintenance is cheap compared to the greater expense of premature major repairs.
Properly developed and applied property maintenance will keep a property attractive for years.
Such a plan will prevent many equipment failures and over the long haul lower the operating costs and frustration of both the owner or manager and the tenants of the property.
There are three general types of maintenance service:
■ Routine
■ Preventive
■ Request and Respond
1. Routine Maintenance
Routine maintenance consists of activities that are planned for and occur on a scheduled basis.
Routine maintenance corrects problems resulting from continuing wear on the property and equipment, accidents, and abuse.
Routine maintenance includes non-emergency repairs to the building, the equipment and the grounds. Examples of routine maintenance repairs are trash removal, snow removal, lawn care, mopping and sweeping, cleaning windows, vacuuming hallways and public areas, and policing the grounds.
2. Preventive Maintenance
Preventive maintenance is service that is programmed and is designed to avoid serious problems at a later date. It also serves to secure items that are always in repair.
Preventive maintenance includes regularly scheduled upkeep on all areas of the property and equipment. It allows staff to handle problems in the early stages and therefore prevents the necessity for an extensive and expensive solution. It preserves the integrity of the structure, Its equipment and the condition of
the exterior elements and landscape.
3. Request and Respond Maintenance
Request and respond maintenance includes services that are requested by a resident or an employee. Requested maintenance cannot be anticipated, but it can be reduced by a preventive maintenance program.
Policies and procedures need to be in place to respond to these requests in a timely and appropriate way.
There are three basic types of requested service:
A. Regular or Routine – These include non-emergency services that need to be handled but are not critical to the tenant's quality of life. Regular services might include replacing a broken tile or repairing a drywall crack.
A sound guideline would require that these services should be provided within seven days of the request.
B. Urgent – URGENT Problems need to be solved quickly but are not life-threatening.
Urgent maintenance problems should be addressed and, if possible, repaired within 24 hours. Examples of urgent problems are toilet stoppages, lock changes, leaking roof, interior door and upper story window replacement.
C. Emergency – Emergency maintenance
must be handled immediately because health and safety are threatened. Examples of an
emergency might be a gas leak, a non-securable exterior door, a broken water line, lack of heat in
the winter, or a fire in an apartment.
Maintenance policies and procedures affect personnel, purchasing, service contracts, and budgeting. Maintenance policies should include information that relates to tenant responsibilities including:
■ the schedule of charges for tenant neglect or damage to the unit or equipment
■ the right of entry clause of the lease
■ employee liability
■ emergency procedures
■ extermination
■ preventive maintenance
■ modernization
■ unit inspection
■ building inspection
■ trash removal
■ compliance with building, zoning, fire safety and housing codes.
Good property maintenance systems also include adequate record keeping.  To make profitable, long term decisions about the property, track essential information such as the volume of work, utility consumption and warranties.
Planning is the key to a cost effective, efficient, integrated property maintenance program.
A properly developed plan of maintenance extends the useful life of the property. By working together, the owner, the management staff, the maintenance staff and the tenants can succeed in keeping the property in top shape year round.