Connecticut is experiencing one of the biggest seller's markets in its history.
And the unprecedented demand is pushing prices up and inventory down. In 2020, the U.S. Postal Service reported more than 10,000 relocations to Connecticut from New York.
If you are thinking of getting to the market, and you have a solid property management in Connecticut, here are some of the best areas to invest in rental properties.
1. Black Rock, Bridgeport CT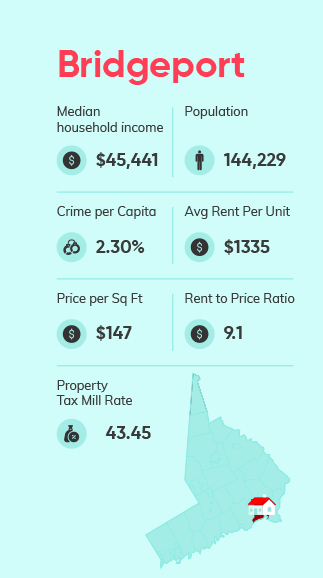 Average Monthly Rent:
1 Bed: $1,495
2 Bed: $1,695
3 Bed: $1,993
Property Tax Mill Rate: 43.45
The desirable Black Rock neighborhood is located along the southwest coast of Bridgeport. The neighborhood is known for its picturesque waterfront, desirable real estate, strong arts community and lively commercial corridor on Fairfield Avenue. Consequently, this waterfront area offers a high standard of living along Connecticut's Gold Coast.
In 90 minutes, the New Haven Metro-North train line provides access to New York City's Grand Central Terminal from Black Rock, a mile from Fairfield Metro.
AREA REVITALIZATION: The Black Rock neighborhood has seen tremendous revitalization, improvements and economic development over the last 10-12 years and is now seen as an attractive alternative to the more expensive nearby neighborhoods in South Norwalk and Fairfield.
Furthermore, Black Rock boasts numerous parks and attractions along the Long Island Sound. Thankfully, residents are walking/biking distance from Seabright Beach, Boardwalk Shoppes, Battery Point Beach, Capozzi Park, and Ellsworth Park.
Fairfield Avenue also saw a recent surge in dining and entertainment choices recently, including Hub & Spoke, Blind Rhino, and The Tasty Yolk.
HIGHWAY ACCESS: Black Rock is a quarter of a mile from the entrance to Interstate 95 providing ease of access to CT Route 8 and the Merritt parkway in three and eight minutes, respectively.
EXCEPTIONAL DEMOGRAPHICS
An impressive 226,500+ people live within 5 miles of the Black Rock with an average household income of over $106,400.
2. Hartford, CT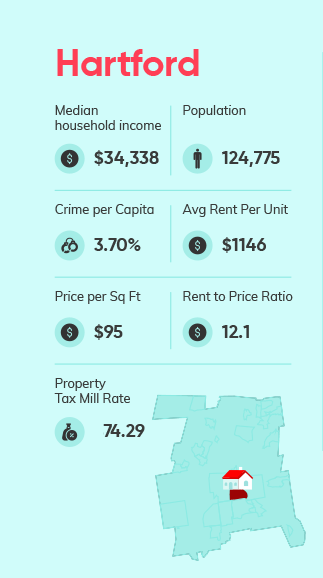 Hartford is a predominantly work­ing-class residential city. Consequently, downtown Hartford boasts convenient access to Inter­states 91 and US Route 5, Hartford Hospital, Trinity College, Brainard Airport, Goodwin Park, and Downtown employers.
Nearby South Street, Wethersfield Avenue and Franklin Avenue offer conve­nient access to public transportation and a multitude of retail amenities just a short walk away.
Hartford Average Monthly Rent:
1 Bed: $1,013
2 Bed: $1,188
3 Bed: $1,236
Property Tax Mill Rate: 74.29
VALUE ADD POTENTIAL: With below-market rents in many rental properties, the opportunity exists to increase rents to market rates and significantly increase the income of the Hartford rental properties.
STRONG RENTAL DEMOGRAPHICS & DEMAND: An impressive 126,000+ people live within 3 miles of Hartford with an average household income of $66,261. Therefore, Hartford is a renter-dominated market with a homeownership rate of 23.8%, well below the national average of 63.9%. The low cost of entry makes Hartford CT a great place to buy investment properties in Connecticut.
3. New Haven CT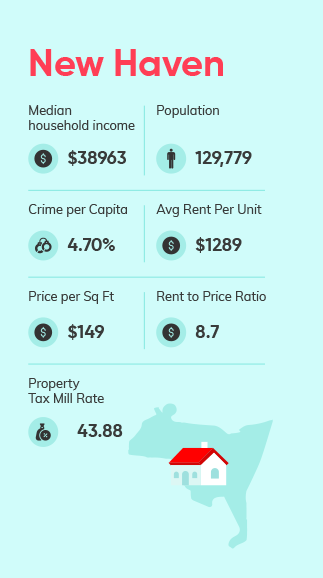 Average Monthly Rent:
1 Bed: $1,143
2 Bed: $1,249
3 Bed: $1,576
Property tax mill rate: 43.88
Residential shift could help in job restoration. The health crisis combined with acute population density have pushed 16,000 New Yorkers to New Haven Connecticut between March and June.
While some of these individuals are simply spending more time in their second homes, others will be new to the area.
This trend, aided by remote work options that will likely be scaled back in 2021, does not undo eight years of negative net migration but could aid in the near-term job recovery.
About 53 percent of the 145,300 jobs lost in New Haven between February and April have been restored through September, bringing the unemployment rate down to 8.0 percent, just above the national level.
As expected, staff cuts were most prevalent in the leisure and hospitality sector as health precautions limited foot traffic at bars, restaurants and hotels. Falling COVID-19 infections in the coming years will restore these jobs to this area.
The largest rent jump of 6.4 percent was recorded in New Haven County. The metro registered one of the smallest vacancy increases during the same period but still has one of the nation's highest office vacancy rates.
4. Bridgeport, CT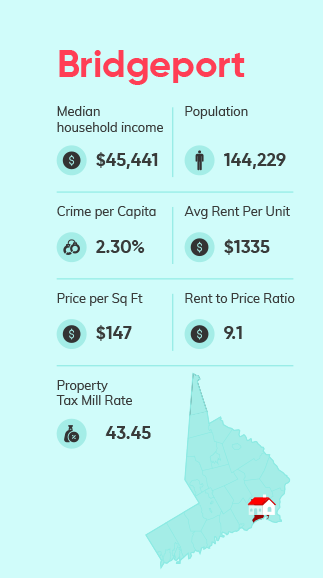 Average Monthly Rent:
1 Bed: $1,005
2 Bed: $1,418
3 Bed: $1,581
Property Tax Mill Rate: 43.45
Bridgeport is the most populous city in Connecticut, and it's located in Fairfield County, one of the ten wealthiest counties in the entire country. The area is home to 19 of the Fortune 1000 companies, and the city of Bridgeport is equidistant to the major employment centers of Stamford and New Haven.
As a result, Bridgeport is located among a large pool of diverse employers in the healthcare, education, aerospace, financial services and defense sectors.
Major Employers Near Bridgeport, CT – # of Employees
City of Bridgeport – 2,737
St Vincents Development Inc – 2,600
Laz Karp Associates LLC – 1,740
St Vincents Health Svcs Corp – 1,600
Bridgeport Civil Service Comm – 1,500
Sikorsky Aircraft Corporation – 1,245
Black Rock Turnpike Branch – 1,097
Peoples United Bank – 855
FAIRFIELD PREP – 808
Town of Fairfield – 660
Nations Roof of New England – 600
3030 Park – 550
Bridgeport offers convenient access to US Route 1 (1/3– mile away), Interstate-95 (1-mile away), and CT Route 8/25 (2-miles away) providing convenient access throughout Fairfield County and all of southern Connecticut.
Public Transportation Access: Bridgeport is easily walkable to public transportation with Greater Bridgeport Transit "GBT" bus service located on Central Avenue and nearby Boston Avenue (US Route 1) and Barnum Avenue. Also, the Bridgeport Train Station on the Metro-North Line from New York City is also easily accessed.
Attractive Neighborhood Employers: Bridgeport Hospital has recently merged with the Yale New Haven Health System. Bridgeport Hospital has 501 beds, plus 42 beds licensed to Yale New Haven Children's Hospital. Since then, it has more than 2,600 employees, 1100 active physicians and 230 medical/surgical residents and fellows in programs affiliated with Yale School of Medicine.
VALUE-ADD POTENTIAL: Bridgeport Connecticut offers investors the opportunity to buy investment properties in Connecticut as value-add, multi-family assets in one of the strongest residential submarkets in Fairfield County. As a rental property city, the opportunity exists to renovate the units and interior common area and capture significantly higher market rental rates via Section 8 or working class residents.
5. Waterbury, CT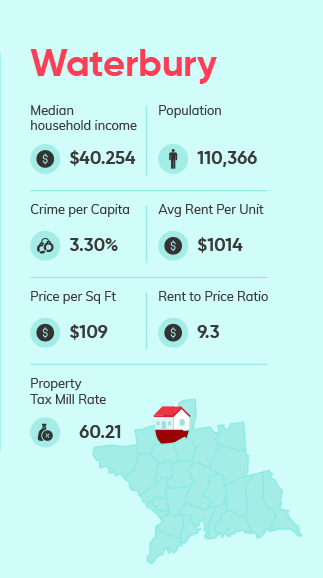 Average Monthly Rent:
1 Bed: $936
2 Bed: $1,040
3 Bed: $1,065
Property Tax Mill Rate: 60.21
Waterbury is a medium-sized city located in the state of Connecticut. With a population of 107,568 people and 28 constituent neighborhoods, Waterbury is the fifth largest community in Connecticut.
Unlike some cities, Waterbury isn't mainly white collar or blue collar. Instead, the most prevalent occupations for people in Waterbury are a mix of both white- and blue-collar jobs. Overall, Waterbury is a city of service providers, sales and office workers, and professionals. Many Waterbury residents also work in office and administrative support (12.24%), sales jobs (11.12%), and healthcare support services (8.02%).
Major Employers Near Waterbury CT
Yale University.
Medtronic
Quinnipiac University
Post University. 4.0
Verizon
IBM
Alexion Pharmaceuticals
Amazon
A lot of people in Waterbury take the bus for their daily commute. For the size of the city, the number of people who use public transportation is quite high. For many people in Waterbury, this fills their need for low-cost transportation.
In terms of college education, the citizens of Waterbury rank slightly lower than the national average. 15.74% of adults 25 and older in Waterbury have a bachelor's degree or advanced degree, while 21.84% of adults have a 4-year degree or higher in the average American community.
The per capita income in Waterbury in 2018 was $23,128, which is low income relative to Connecticut, and lower middle income relative to the rest of the US. This equates to an annual income of $92,512 for a family of four. However, Waterbury contains both very wealthy and poor people as well.
The excellent rent-to-price ratio makes Waterbury CT an excellent place to buy investment properties in Connecticut!
Ensure you have reliable property management in Waterbury CT, to handle the day to day of your investment.
Waterbury is an extremely ethnically-diverse city. The people who call Waterbury home describe themselves as belonging to a variety of racial and ethnic groups. The greatest number of Waterbury residents report their race to be White, followed by Black or African-American. Waterbury also has a sizeable Hispanic population (people of Hispanic origin can be of any race). People of Hispanic or Latino origin account for 37.44% of the city's residents. Important ancestries of people in Waterbury include Italian, Irish, French, German, and Jamaican.
Foreign born people are also an important part of Waterbury's cultural character, accounting for 16.64% of the city's population.
The most common language spoken in Waterbury is English. Other important languages spoken here include Spanish and Portuguese.
6. Torrington, CT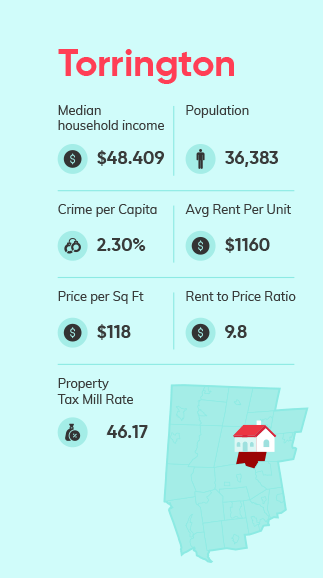 Average Monthly Rent:
1 Bed: $891
2 Bed: $1,140
3 Bed: $1,449
Property Tax Mill Rate: 46.17
Torrington is a town in Litchfield County with a population of 34,489. As a result, living in Torrington offers residents a dense suburban feel with most residents owning their homes. Many young professionals and retirees live in Torrington and residents tend to lean liberal.
Most of Torrington is a great place to buy investment properties in Connecticut. There are many family friendly restaurants (Chinese, Japanese, Italian, Greek, etc.). On Main Street, the KidsPlay children's museum is an absolute blast, and the Warner Theatre is wonderful for all types of people. While the South End of Torrington isn't great, the vast majority of Torrington neighborhoods are safe and fun.
Most of the people who reside here are great people. After school, residents and kids would walk around Main Street and Water Street. Stop in at Cafe 38 to grab hot chocolate and a bite to eat, and see what Kelly's Crystals Boutique had to offer. All in all, Torrington is a great place to visit, live and invest!
7. Danbury, CT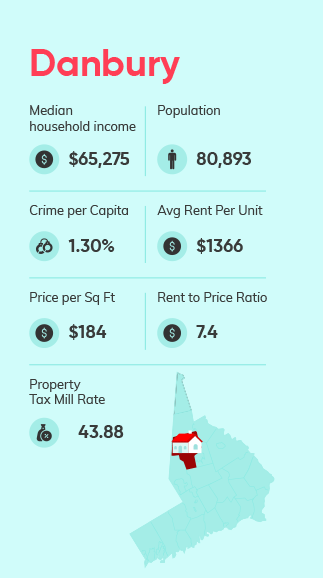 Average Monthly Rent:
1 Bed: $1180
2 Bed: $1,309
3 Bed: $1,609
Property Tax Mill Rate: 28.95
Danbury is becoming the "it" city in Fairfield County! It is in the perfect location. The houses have charm. There are numerous schooling choices: great magnets, local schools, private schools, a Montessori school, catholic schools, a Lutheran School, a community of 100 homeschooling families. There is even a charter school coming to Danbury!

The Park Avenue / City Center area and has seen houses selling at record pace. Consequently, the whole downtown scene has taken off. The ethnic food restaurants are very affordable and delicious.

There are amazing hiking trails at Tarrywile Park and "Tinkergarten," and an outdoor learning program which takes place on Fridays and Saturdays at Tarrywile Park.

The whole vibe of Danbury is like Northern California. The town is walkable, with every store 5 minutes or less walking distance.

There is no other town as hip as Danbury in Fairfield County.
Places to Work in Danbury
Buy Investment Properties In Connecticut [The Best Areas]