Hartford CT can be a tough city.
With boots on the ground in Connecticut's capital Hartford CT, our promise to you is round-the-clock management, leasing, and reporting for your property.
Because we're one of the only "Owner Aligned" companies, we align our financial interests with yours. We won't nickel and dime you to death like some other Hartford property management companies.
Our simple pricing incentivises us to perform for you, not the other way around.
Local Hartford CT Property Management Company Expertise
Criminals, tenants with questionable financial habits, and poor character can ruin a good investment property.
For example, we've seen multifamily properties with as little as one bad tenant drive the other good ones away. What once was a profitable property goes into the red because of one bad choice.
That's where a great Hartford Connecticut Property management company comes in.
Imagine having boots on the ground who know the ins and outs, the good streets and bad. Our extensive knowledge of East Hartford, West Hartford and surrounding areas helps you select the best residents and strategies that keep your investment profitable.
You can feel safe that we secure and watch your property. Optionally we can provide security cameras for 24/7 monitoring.
Idoni will enforce our battle tested lease to the fullest extent to keep our residents accountable for their actions. This helps everyone live in a safe and peaceful residence.
Powerful tools and tech that give you your time back.
Save hours per week with our systems and people taking care of your property. Spend more time with your family, travel, or finding more great rental deals to build your retirement portfolio.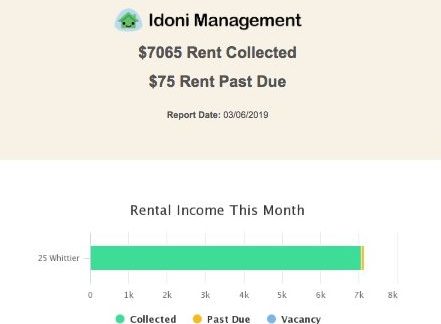 "You can't manage what you don't measure."

-W. Edwards Deming
First, Idoni provides you weekly reporting on your Hartford real estate so you know how your investment is performing. For instance, you'll always know how much rent is collected, if there are any open repair requests, or vacancy status.
Your rent lands straight to your account every month via direct deposit.
We are licensed and insured for your protection. In addition, our extensive continuous education in rental property intensives keeps us up to date on the latest strategies to make you a better investor.
With dozens of 5 star reviews, our clients love us and keep investing with Idoni as their management partner.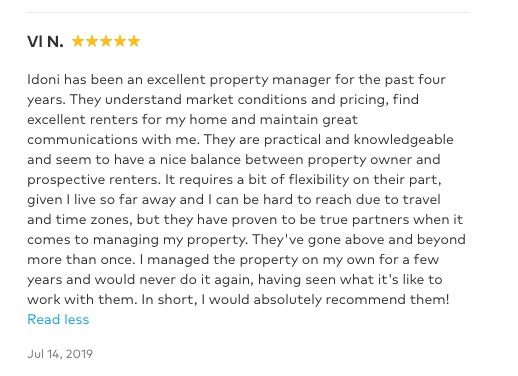 We have 120 properties under management with 17 years experience in the Hartford Connecticut property management business. Consequently, our systems and processes have been fine-tunes to the well oiled machine they are today.
It's an easy 3 step process to sign up.
In conclusion, if you have a property in Hartford CT or have found a good deal, sign up for Hartford CT property management here.
It only takes a few minutes to sign up.
You sign our contract
We'll collect your leases and tenant contact information,
We introduce ourselves to your residents and inspect your property.
Sit back and feel secure that your property is performing at its best.