The purpose of the notice to quit CT is to serve the resident via sheriff / marshall with official written notice. This could be when they fail to pay rent, lease has expired, or other grounds for eviction process.
It gives them 3 days to move or cure the breach of lease. If not, a court case will be started.
The notice to quit is the first document to serve during the Connecticut eviction process.
The landlord must serve the notice to quit at least 3 days before the lease ends or 3 days before the date specified in the notice to quit. You must give the tenant at least three full days to move out.
Then, the Marshall can serve the notice on any day of the week.
What happens if the tenant refuses to move out from the property? You may initiate proceedings in Superior Court by filing a summons and complaint.
How to use the Notice to Quit CT:
Fill out this notice to quit CT form. Make sure that the person signing this notice is the owner or lessor, or the owner's legal representative, or the owner's attorney or in-fact.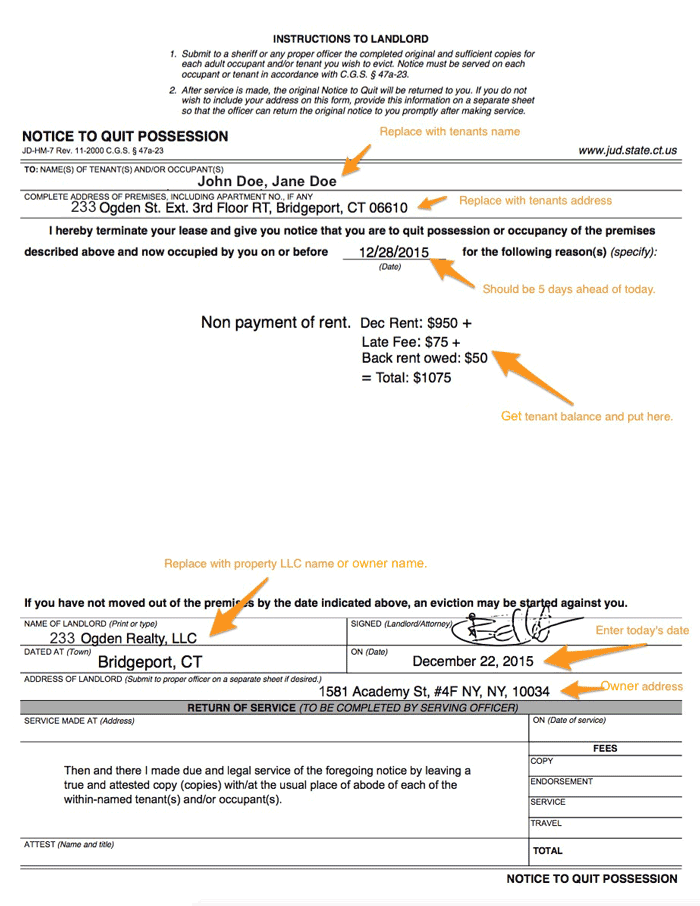 Give the completed notice to a state marshal or any proper officer with enough copies for each adult occupant and tenant you want to evict.
After service/delivery to the tenants, the original Notice to Quit will be returned to you. If you don't want your address on this form, give it to the marshal on a separate sheet. Then the officer can return the original notice to you after service.
For further questions feel free to browse the landlord tenant responsibilities guide on the CT Housing Court website.
In conclusion, serve this form first when your tenant is 10 days late with the rent. In most cases they will pay right away after being served.
Notice To Quit CT Service for Connecticut Landlords
Idoni provides a "done for you" flat fee notice to quit service for $297 using our bulletproof legal team. Get your deadbeat tenant paying quickly!
With years of experience in the Connecticut housing courts, we know the tricks and techniques to end your bad tenant experience.
Fill out the form below to see if your situation qualifies for our service: [wpforms id="641″ title="false" description="false"]