Trusted By These Prolific Investors





SLASH YOUR VACANCY, REPAIR COSTS AND BOOSTS INCOME VIA SMART MANAGEMENT.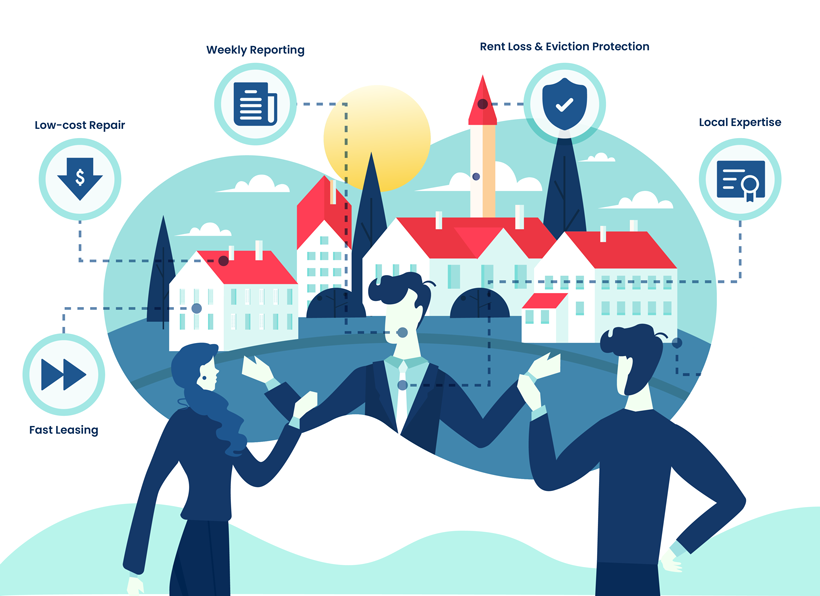 Most CT investors are tired, frustrated, and struggling to manage their rentals. Our proven CT property management system shows you exactly what's happening with your real property. Now you can plug the money leaks, improve service and generate more cashflow so you can become financially free.
LEASING & MANAGEMENT
Using our ResiRank scoring system, you get the best residents who will take pride in your real property.
We have them sign a solid lease that protects you and your property. Automated rent collection ensures you get paid promptly.
We provide seamless transitions between tenants, lowering vacancy expenses to the absolute minimum.
REPAIRS & MAINTENANCE
Never waste valuable time dealing with toilets or termites. Idoni promptly performs routine and emergency repairs, landscaping and maintenance.
Our reliable networks of contractors do it right the first time, at wholesale prices saving you money.
We make sure both you and your tenant get the most out of their time at your real estate.
DETAILED ACCOUNTING
Automated weekly reports of all rental income and expenses of your property keeps you in the loop at all times.
Idoni handles your bookkeeping and provides monthly statements of your property's performance.
Let us take care of paying your monthly, quarterly or yearly bills.
HOW TO MANAGE YOUR PROPERTY MANAGER
Get the 4 crucial numbers your manager MUST
provide you every month!

THE COMPLETE CT PROPERTY MANAGEMENT SOLUTION FOR RESIDENTIAL AND COMMERCIAL INVESTORS.
True Passive Income. Minus the headaches.
Idoni Management takes care of your property so you can get more from life. Take a vacation without guilt. Go to your kids soccer game. Eliminate the headaches of property management while you sit back and enjoy your well deserved profits.
With years of experience in Connecticut, our team lives and breathes the state laws and have handled just about every landlord-tenant situation.
We have managed dozens of residential units in the Bridgeport area.
Our Top 5 Property Management Goals:
• Maximizing your earnings while minimizing expenses
• Timely rental collections and direct deposit to your bank
• Up to date reporting and complete accountability
• Regular property maintenance
• Your tenants are treated professionally by our trained customer service team.
They've been responsive to me since before i signed a lease with them. Then, when there was some confusion and my bank sent the check to the wrong address, they didn't hassle me and I didn't realize it happened. I'm defiantly building my trust with them more than any other management companies I've worked with in the past.
"Awesome team! I had non complaint occupant in my private home who refused to leave my premises, what normally would take months to get a resolution only took to 6-7 weeks. Craig the main contact is very good with communication and explaining the court process. He always responded within a reasonable amount of time which made me feel comfortable and I felt I was always in the know. If ever in a situation with a stubborn tenant, Idoni management is the way to go. They will get the job done!! 🙂 very pleased with their team."
"Craig's team @idoni management is fantastic. They take care our properties and tenants without issue. Idoni management is always ahead of the curve and on point. Highly recommended!"
TENANT LEASING & MANAGEMENT
We select and screen tenants who will take pride in your property. Background and credit checks included. We have them sign a solid lease that protects you and your property. Automated rent collection ensures you get paid promptly. We make sure both you and your tenant get the most out …