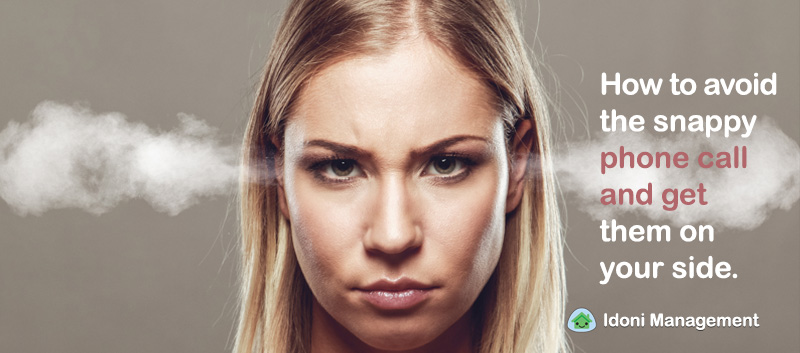 When I get time to, I read. I read emails, lots of them, I read Facebook posts and complaints about property managers.
"She declined me for a property even though I've got great references."
Liar!
"She took my deposit even though the house is cleaner now than it was when I moved in."
Liar!
"I told her my faucet was leaking and she did nothing about it."
Liar!
"I couldn't pay my rent because I was sick in hospital, ran over my dog, all my kids were sick with vomiting, I lost my job, my wallet got stolen and the bank was shut when I got there – all in the same day."
Liar!
"It's not my dog. I'm just looking after it for a friend."
Liar!
"You never told me I couldn't clean my own carpets."
Liar!
Imagine waking up at 6am, reaching over for your iPhone, and scrolling through to read complaint, complaint, complaint. Then make your morning coffee whilst trying to reply to some of those emails, getting Facebook messages with the comment "???" after you haven't responded to a rental inquiry at 11pm the night before. Imagine your phone starting to ring at 7 am with people wanting to reschedule the day that you spent over an hour planning yesterday.
Imagine getting attitude when you didn't answer at 8 am because you were finally getting in the shower, a shower you really need after already being unofficially at work for 2 hours. Or because you didn't respond at 7.30pm on Friday night.
Try and picture what it's like to be expected to be on call and answer at all times, respond to emails and never have a life without dread over the next problem.
Add in court cases over somebody leaving a property dirty or damaged. Throw in a pinch of people making viewing times and not having the courtesy to call and cancel when they have found something better to do or another property they like more. And a dash of desperate phone calls pleading for help to find a property, frantically processing that application to get a 'yes' from the owner to be told, "Thanks, but I don't want it now."
All of these things and so much more is a recipe for a bitch of a property manager. Now I don't want to say that it's all negative because it's not. Beautiful and thoughtful messages, emails, and even gifts of appreciation are definitely rewards that are common some days.
But it's the days when a property manager can't even finish one phone call without another three people leaving messages, and then emailing 2 hours later over a broken kitchen cupboard, that wear down the human spirit.
In today's world, everything is "now, now, now" and we are fast seeing a pattern of "I want it yesterday."
If your property manager is a bitch, here's how to make sure you avoid the inevitable snappy phone conversation and get him or her on your side.
Turn Up!
If you make an appointment, have the decency to turn up or at least call and reschedule with a good excuse. My personal experience is that I don't eat, drink water, or even have time for a bathroom break most days so if I've made an appointment for you, have some respect and show up on time. If you are going to look at a property, make sure you know exactly where it is before you get in the car. Getting a phone call 20 minutes after you were supposed to arrive to tell me you're lost is now making me late for the next person who is waiting for me.
Don't apply! Unless you really want it and your references really ARE great.
The amount of time we spend processing applications for tenants who are constantly in arrears and have had unapproved pets or inspections where the lawn was so high you can't see the house is annoying. You've already burned another agent. Why on earth would we want you doing that to our clients?
Worse than tenants who apply with bad references are the ones who aren't truly committed to the property and are dropping their eggs in so many baskets that they rival the Easter Bunny. It takes time to do all of the work to get you approved, please make sure it's the property you really want.
Report your maintenance in writing
We know it's easier to pick up the phone but when you call about your dripping tap, we are generally in the middle of something else that needs our attention. This is when it's easy to misunderstand what you are saying. Emergencies are exactly that and definitely warrant a phone call. Your air conditioner not working, or a dicky light – do your property manager a favor and send an email. Or even a text.
Get a cleaner!
If you do your own bond cleaning, you take the risk. Having moved myself recently, I know without doubt that I could not have done my job, moved a house AND spent the 21 hours needed to properly scrub my house from top to bottom. Stop overestimating what you can do in a day. Cleaners clean every day and even THEY can't do what you THINK you can. Know your limits, suck it up, spend the money and avoid that horrible phone call where we send you back with a list longer than your aching arms.
You are not a painter or a plasterer
As above, know your limits. You might be able to replace the flywire in a screen door but plastering, painting and color matching is actually a skill. That can of paint you found under the laundry tub that says "architraves" is not the same colour as what's on the walls and even if it is, the paint has been blended by the painter. Spack filler is not your friend. If you've damaged the walls, don't try and hide it and hope we don't notice. And don't get cranky when we do and it costs you money. WE DIDN'T DO THE DAMAGE.
Pay your rent – on time
You know when it's due. The day of the week or fortnight doesn't change. If you're the kind of person who forgets to put the bins out, I can understand how you can forget to pay your rent. So set up a direct deposit! Your property manager isn't your mother. If she was, you would probably know better than to be late. It's the roof over your head that you're risking. And any future rental prospects – see point 1.
Report your maintenance as it happens
I have a standing joke with my plumber and sparky that hot water systems only fail at 4.45pm on a Friday. They don't. It's that tenants sometimes notice a problem but think it will get better or they don't remember to let us know until they have cracked open a beer at the end of the week. Guess what the plumber and sparky want to be doing? Joining you in that beer.
The other issue is that many tenants 'save up' the list of repairs needed. And what do we as property managers then cop? "Why are there so many problems all of a sudden. None of this happened when we were living there. Clearly the tenants are causing these issues." Report regularly and in a timely manner. In writing!
Stop ringing after hours
Every property manager should be on call for emergencies. But let's define emergency.
a serious, unexpected, and often dangerous situation requiring immediate action
Needing to change your routine inspection, get a copy of your tenancy ledger or your statement that you have misplaced, asking when your lease expires, what the phone number is for our cleaner etc etc = not an emergency. If you're thinking about these things after hours because you are winding down, chances are your property manager is trying to do the same thing.
There are so many demands on property managers. No longer are we expected to simply collect the rent and organise the plumber. We act as negotiators, debt collectors, advisors, counselors, mediators, co-ordinators and so many other hats that my tired head just can't think of right now.
After doing all of the above, putting up with tears and tantrums and trying to maintain a smile, it's no wonder that we are occasionally the bitch you call us. We may be from time to time. It's just the joys of being the boss.